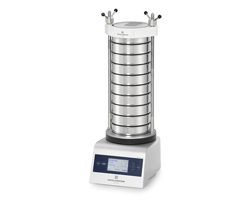 The new generation of HAVER EML 200 for test sieves have diameters of up to 203 mm and can be used for dry and wet sieving of bulk material of maximum 3 kilograms. It is the smallest 3D laboratory sieve shaker with an electromagnetic drive of Haver & Boecker. You can set and store sieving time, interval and amplitude for reproducible sieving results.
• Two given regulated amplitudes to select from (fine and coarse)
• Set interval (10 seconds)
• Digital timer
• Evaluation software CSA 5.0 basic license included when purchasing a new EML 200 test sieve shaker
The HAVER EML 200 Premium offers a comfort improvement - the machine is much quieter than ever before. Transmission of vibrations to the base is greatly reduced, utilising an improved dampening system.
The extra-large display is user-friendly and offers operators an excellent overview. The new EML Premium is ideally suited for users who demand precision and reproducible sieve analyses.
• Three-dimensional sieving action
• Extra-quiet electromagnetic drive
• Free selectable amplitude up to 3 mm
• Improved damping system
• Extra-large display of remaining sieving time
• Ethernet interface
• Network-, voltage- and frequency-independent
• CSA 5.0 basic license included when purchasing a EML 200 test sieve shaker
C. HAVER EML Premium Remote
The HAVER EML 200 Premium Remote offers a separate control unit for wet sieving analysis. The design and function of the lid has been specifically developed. The full cone nozzle is elegantly integrated into the cover, offering improved handling. The cover includes an inspection glass to allow observation of material during the sieving process.
The HAVER EML 200 Premium Remote offers all technological advantages of the Premium and additionally
• A new lid with integrated full cone nozzle
• A separate control gear
• CSA 5.0 basic license included when purchasing a EML 200 test sieve shaker